Publications CELSI researcher Lucia Kováčová is the co-author of the fifth quarterly report on COVID-19 impact on industrial relations which has been published under the BARCOVID project
CELSI researcher Lucia Kováčová is the co-author of the fifth quarterly report on COVID-19 impact on industrial relations which has been published under the BARCOVID project
Published on Nov. 9, 2022 in Research and policy reports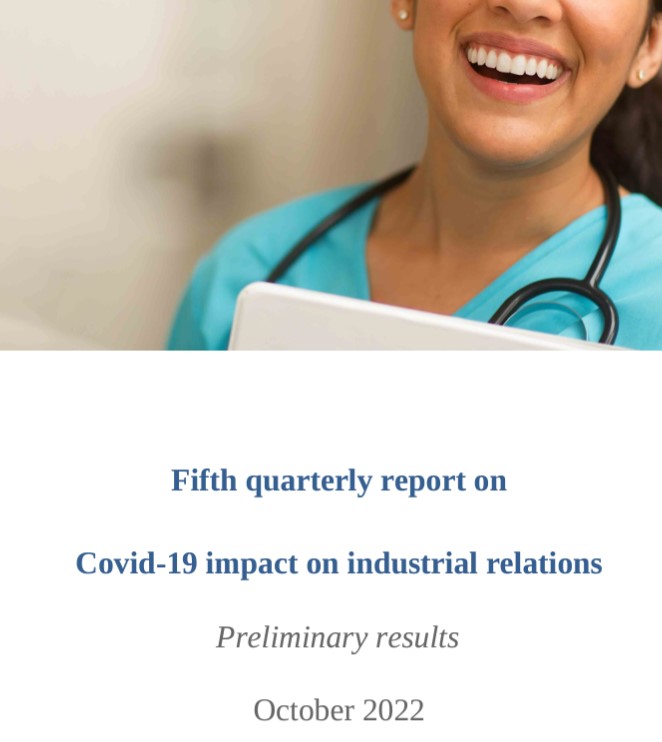 Lucia Kováčová, Armanda Cetrulo and Niels Peuchen worked on the report which adds to previous reports new preliminary results from data mining and text analysis of the newsletter outputs published by the selected stakeholders at the EU level. The goal of these quarterly reports is to address the first research question of the BARCOVID project: "How have the Covid-19 crisis, the state-imposed measures and their consequences affected the industrial relations landscape in EU27 and 5 candidate countries?"
To respond to this question, text data (text extractions) were collected from social partners' press releases and newsletters at the EU level and then further analysed. In total, 1,428 texts were extracted from the newsletters of organizations, particularly WageIndicator 1(20%), ETUI (12%), BusinessEurope (10%), UniEurope (5%), country-level newsletters letters (40%), and others (12%), between March 2020 and March 2022 based on the selected list of keywords (see Annex).
As already explained in the First Quarterly Report, the methodology consists of the text mining techniques (using Python), supported by qualitative and quantitative text analysis of the newsletter outputs. The analysis illustrated in this report presents a qualitative analysis of the newsletter outputs that were published in 2020, thus, during the first year of the pandemic. The data extractions were examined using the Dedoose software and, based on the coding of the key themes, 518 text items were selected and analysed.
In this report, the focus is not only on the policy measures that were discussed during the designated time, but also on the whole discourse between social partners, including the channels of communications and the different key issues discussed. The analysis also proposes a comparison of the findings observed at country level, within the theoretical framework of the welfare regimes.
The countries in the sample were categorised according to the 1990; welfare regimes classification Ferrera, 1996,; Adascalitei, 2012) as follows: Conservative (Esping-Andersen, regimes Germany, Luxembourg, Netherlands), Liberal regimes (Austria, France, (Ireland and United Kingdom), Mediterranean countries (Greece, Italy, Portugal, Spain and Cyprus), Social Democratic Regimes (Denmark, Finland, Sweden and Iceland) and Central and Eastern Europe (Czechia, Croatia, Hungary, Poland, Slovakia, and Slovenia).
You can read the report here: https://wageindicator.org/documents/publicationslist/publications-2022/24_10_2022_fifth_quarterly_report_barcovid.pdf?utm_source=%2AWageIndicator+Newsletters%2A&utm_campaign=95e1e38a4f-EMAIL_CAMPAIGN_2022_11_07_12_49&utm_medium=email&utm_term=0_bd1ac303f1-95e1e38a4f-139951389&mc_cid=95e1e38a4f&mc_eid=d871da64e9