News CALL FOR APPLICATIONS: Postdoctoral Fellow/Researcher/Senior Researcher at CELSI
CALL FOR APPLICATIONS: Postdoctoral Fellow/Researcher/Senior Researcher at CELSI
Published on Aug. 1, 2023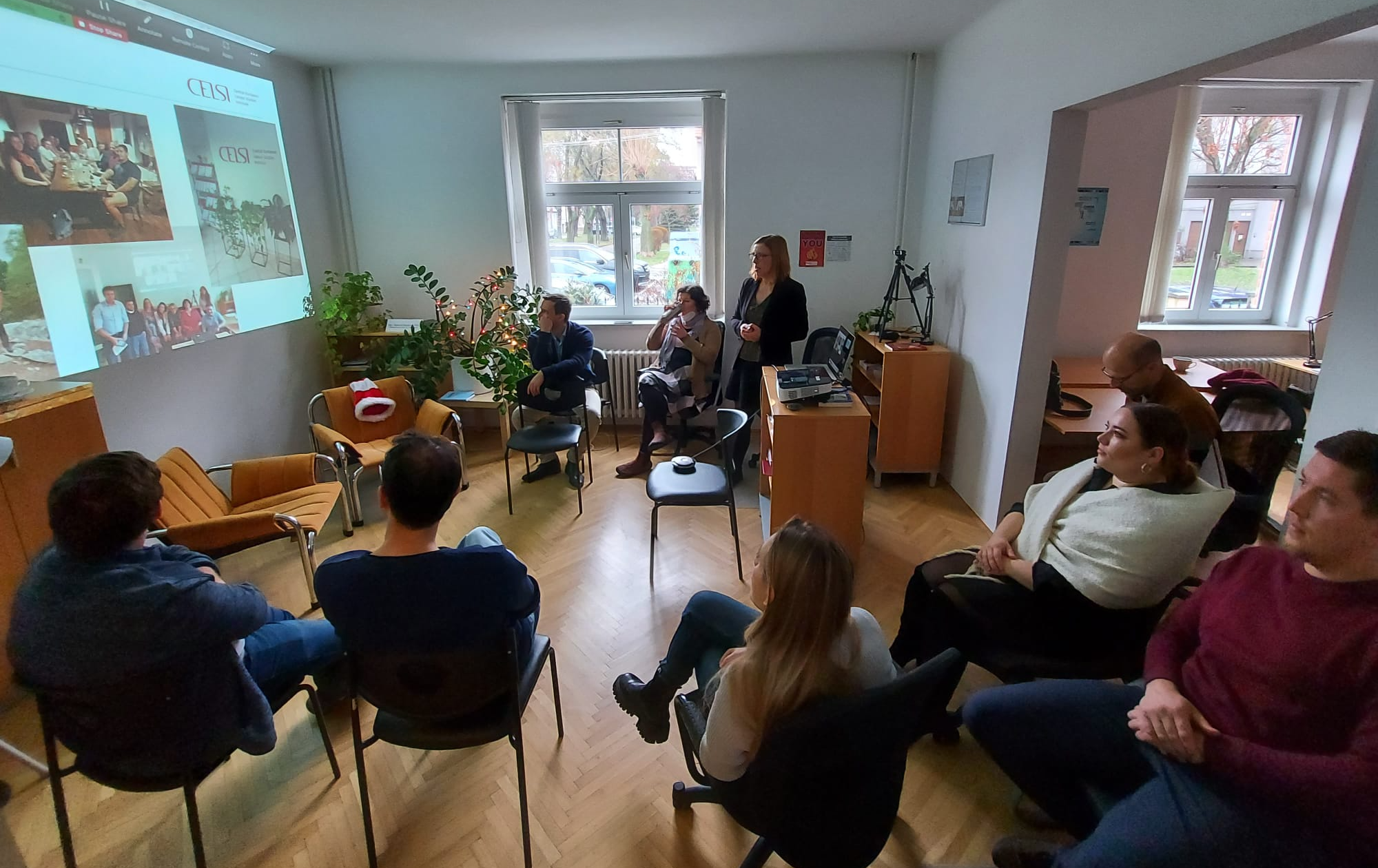 The Central European Labour Studies Institute (CELSI) invites applications for open research positions at three levels: Postdoctoral Fellow (R2), Researcher (R3), and Senior Researcher (R4) within the framework of the Recovery and Resilience Plan for Slovakia. CELSI is an internationally recognized research institute based in Bratislava, Slovakia, dedicated to conducting interdisciplinary research and analysis on various aspects of labor markets, employment relations, and social policies, with a primary focus on Central and Eastern Europe. As a Researcher at CELSI, you will play a crucial role in supporting our research efforts and contributing to the development of innovative projects in one or more of our main research areas in Central and Eastern Europe and beyond.
Candidates may apply for positions across any of CELSI's main research areas:
Data and Measurement
Caring Societies
New Forms of Labour
Labour Mobility
Inequalities and Vulnerabilities
Welfare and Labor Policy
Social Dialogue and Collective Bargaining
Green and Digital Transitions
To explore the research areas, visit: https://celsi.sk/en/research/.
This Call is specifically for applications to the scheme financed through the Slovak Recovery and Resilience Plan (RRP). For more information about the RRP call, visit: https://ispo.planobnovy.sk/app/vyzvy/455104889489371136.
Key Tasks:
Contribute to CELSI's applied and policy research in its main research areas.
Seek project opportunities, tenders, and grants, especially with the aim of applying for funding to continue the position at CELSI beyond the RPP funding.
Produce research studies and articles with the aim of publishing them in internationally renowned academic outlets.
Engage with CELSI's network of researchers within and outside CELSI.
Generate innovative ideas for research projects on labor issues.
These tasks provide a diverse and engaging role, offering you the opportunity to grow and contribute to impactful research initiatives in the field of labor studies.
Required Qualifications:
Ph.D. degree in Social Sciences, Political Science, Sociology, Economics, Law, Statistics or Econometrics, Labor Studies, or related field.
A keen interest in labor market issues documented by a track record of academic publications/PhD thesis in the broad area of labor.
Excellent command of English.
Self-motivated individual able to work independently and autonomously as well as in teams.
Ability to work in culturally diverse environments.
The nominees must fulfill the criteria for R2/R3/R4 researchers as described here: https://euraxess.ec.europa.eu/europe/career-development/training-researchers/research-profiles-descriptors. The nominations will be categorized based on the nominee's CV.
It is expected that the candidates selected for funding will relocate to Bratislava for the duration of the fellowship.
If you are a dedicated and proactive individual with a passion for labor market issues and a strong research background, we encourage you to apply. Join the team at CELSI, an internationally recognized research institute committed to advancing knowledge in labor markets, employment relations, and social policies in Central and Eastern Europe. We offer a dynamic work environment that fosters professional growth and the opportunity to make a meaningful impact. At CELSI, we are committed to fostering a supportive and inclusive work environment.
Our Offer:
Meaningful Mission: Join us in our mission to conduct impactful research and analysis on labor markets, employment relations, and social policies in Central and Eastern Europe and beyond. You will have the opportunity to contribute to research that addresses critical issues and makes a real difference in people's lives.
Collaborative Work Environment: Experience a collaborative work environment where teamwork, cooperation, and knowledge sharing are valued. You will work closely with a diverse team of researchers, experts, and professionals, fostering a stimulating and supportive atmosphere.
Professional Development: We are committed to the professional growth and development of our employees. You will have access to learning and knowledge exchange seminars, conferences, workshops, and resources to enhance your skills and expand your knowledge in the field of labor studies.
International Exposure: Collaborate with our renowned international partners and gain valuable exposure to international research, policy work, and collaborations. You will have the opportunity to engage with global stakeholders, contributing to research that has a broad impact.
Advancement Opportunities: You will have the opportunity to develop your research skills, build a strong professional network, and advance your career in the field of labor studies. We support and encourage the growth of our employees, providing opportunities for advancement and recognition of their contributions.
Equal Opportunity Employer: We are an equal opportunity employer that values diversity and promotes equal opportunities for all applicants and employees, regardless of their background, gender, ethnicity, or other personal characteristics.
Remuneration:
Selected applications will be proposed for funding through the RRP, covering eligible costs:
Postdoctoral Fellow (level R2, recognized researcher): EUR 3,138 gross monthly salary
Researcher (level R3, established researcher): EUR 3,567 gross monthly salary
Senior Researcher (level R4, leading researcher): EUR 3,991 gross monthly salary
The fellowship includes additional budget for research expenses (EUR 1,300 per project month) and team personnel expenses (max EUR 2,000/4,500 per project month for R3/R4 researcher).
The duration of the project is 12-24 months, and it must end on June 30, 2026, at the latest.
The amount of total eligible costs is determined based on the number of months of project implementation, the researcher's working hours, the type of support, and the use of the contribution per research team; in the case of industrial research, also based on the size category of the company. The call is covered by the state aid scheme.
How to Apply:
The applicants are expected to submit their nomination to analysis@celsi.sk as soon as possible but not later than August 31, 2023. Please mention "CELSI Research Application" in the subject line. The applications must include:
A short description of the research activities (topics, research questions, what contribution to the literature) and publications planned during the fellowship at CELSI. Please explain specifically to which of the CELSI research areas you plan to contribute and how. (500-1000 words)
Professional CV, including the list of publications
A document confirming a PhD degree (a scan of the PhD diploma is sufficient)
Only complete submissions will be considered.
Applicants must not have resided or carried out their main activity (work, studies, etc.) in the country they apply to for more than 12 months in the 3 years immediately before the recruitment.
Selection Process:
The applications will be considered individually on a rolling basis based on the submitted documents. Shortlisted candidates will be interviewed by CELSI's selection committee. The successful candidates will be guided by CELSI experts to prepare the full proposal in the required form. The full proposal must be completed and delivered not later than on September 18, 2023.
If you are interested, please send the nomination to analysis@celsi.sk. For any questions, contact martin.kahanec@celsi.sk. Please mention "CELSI Research Application" in the subject line.